CrossFire on a Stick

---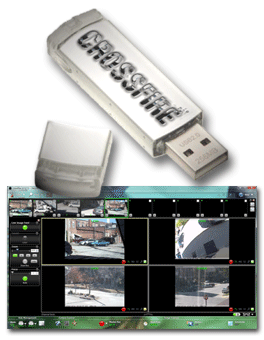 Completely self contained on a USB Stick
No installation
Plug and play - coudldn't be easier
Records up to 16 cameras
Records to thumb drives, USB hard drives(2.0 and 3.0), eSATA drives, SD cards
Audio recording
Image Enhancement Features
Now you can get all the power of a CrossFire on a USB stick!
Just plug in the CrossFire on a Stick USB into any computer running Windows, log into an IP camera, and record Evidence.

CrossFire on a Stick connects to over 100 IP cameras. It can record to local USB drives. And you can review your images as soon as they are recorded.

Like the CrossFire box, CrossFire on a Stick records Evidence as JPEG images, and uses no proprietary formats.

And CrossFire on a Stick is convenient. You can unplug it from one computer, move it to a new computer, plug it in and you are ready to go.