HDX-100 High Definition Image Recorder - With Real-Time Blind Deconvolution

---
Captures JPEG and TIFF Images from HD Cameras – Ideal for Medical and Scientific Applications.
VayTek's HDX-100 High Definition Image Recorder was designed specifically for medical and scientific imaging. It takes HD-SDI input from HD cameras and saves individual JPEG or TIFF images to disk. This makes it easy to retrieve, view and archive images – unlike MPEG-4 or H.264 files. In addition, users can archive long sessions to removable SATA II hard drives and archive them for later use.
Applications
Pathology Review
Cell Biology
Fluorescent Imaging
Cytogenetics
Endoscopy
Features
Video input from High Definition cameras
Outputs full 1920 x 1080 JPEG or TIFF images to disk
Users can record and review at the same time
Users can extract images to a thumbdrive or DVD
Images are recorded to 2 hard drives, one for backup
Removable SATA II hard drives make archivingeasy
Simple, easy to learn and use interface
Easy to switch between live camera feed and recorder
Live, real-time blind deconvolution
SPECIFICATIONS - PERFORMANCE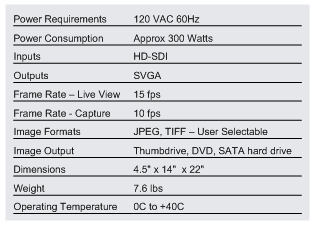 SPECIFICATIONS - FEATURES
Inputs and Outputs The Recorder accepts input from an HD camera with HD – SDI output. Output from recorder goes to HD monitor via SVGA. User can switch the monitor via a remote between live feed from camera and output from recorder. Recorder displays the live image at 30 fps.

Recording Options The Recorder saves Hi Def images to standard SATA hard drives. The SATA hard drives are removable and can be stored or read on other computers with a USB to SATA adapter. Recorder can output in JPEG or TIFF formats. User can adjust the image quality for JPEG images. Recorder will display images to the Hi Def monitor at 15 fps. Recorder will record images to the hard drives at 10 fps. Recorder uses no proprietary formats or databases.

Unit can be configured with 2 SATA hard drives. In this mode images are written to both hard drives simultaneously and are exact duplicates. One hard drive is a backup. Unit can also be configured with 1 SATA hard drive and 1 DVD burner. In the 2 hard drive configuration, the user can plug in an external USB DVD burner.

Reviewing Options The Recorder includes a Review program. User can review images while the Recorder is recording. Reviewer has many tools for reviewing large volumes of images quickly, including a USB Shuttle Jog. Review program is available as a standalone application and is distributed free. It will run on any Windows platform and does not need to be installed.

Archiving Options The Recorder lets the user select stored images and export them to a USB Thumbdrive or a USB hard drive, or burn them to a DVD disk. The SATA hard drives can be pulled from the unit and archived also.
SPECIFICATIONS – REAL-TIME BLIND DECONVOLUTION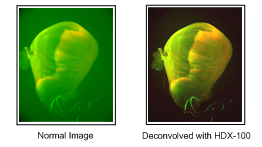 The HDX-100 recorder includes proprietary algorithms developed by VayTek for removing blur in images caused by spherical aberration of microscope lenses. These algorithms characterize the aberrations by iterating on the image, estimating the point spread function of the optics in the image, and removing the calculated haze. The user can easily turn this feature on or off. The frame rate drops from about 10 fps to 4 fps when it is on.

CONNECTIONS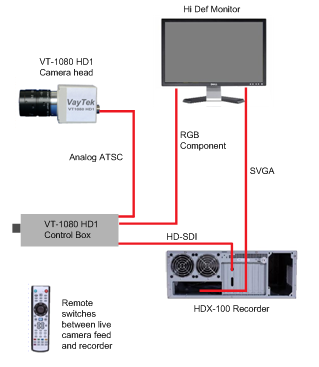 Download PDF